Eleanor Roosevelt: The War Years and After The long-awaited third and final volume of the biography takes us through the arc of World War II, the evolution of a personal and political marriage, FDR's death, the founding of the UN, and Eleanor Roosevelt's death in 1962.
Cook's portrait of a powerful individual who towered over the twentieth century explores how, as First Lady, Eleanor realized the cost of maintaining her principles even as the country and her husband were not prepared to adopt them. She struggled for economic security, New Deal reforms, and racial equality. The war years made her the leader, visionary, and guiding light that she became. Her passion and commitment inspired generations of Americans to fight for a decent future for all people.
Lighting the Fires of Freedom
Lighting the Fires of Freedom: African American Women in the Civil Rights Movement (The New Press, 2018) by Janet Dewart Bell is a groundbreaking collection based on oral histories that plumb the overlooked leadership of African American women in the twentieth-century fight for civil rights. Published to coincide with the 50th anniversary of the Civil Rights Act, these stories provide a broader understanding of the Movement. Bell is an Emmy and Peabody award-winning communications strategist and management consultant with a doctorate in Leadership and Change from Antioch University.
Young Benjamin Franklin: The Birth of Ingenuity (Penguin Random House, 2018) by Nick Bunker is an illuminating new study of this complex, brilliant, and ambitious young man through the age of forty-one, when he began making his first electrical discoveries. Beyond science, the book is rich in politics, war, and religion, going behind the legend to reveal a nuanced portrait of Franklin and the forces that formed America's favorite genius. In 2015, Bunker was a finalist for the Pulitzer Prize in History.
The Earth is Weeping (Alfred A. Knopf}
A sweeping, definitive history of the battles and negotiations that destroyed the Indian way of life even as they paved the way for the emergence of the United States we know today. In dramatically relating bloody and tragic events as varied as Wounded Knee, the Nez Perce War, the Sierra Madre campaign, and the Battle of the Little Bighorn, we encounter a pageant of fascinating characters, including Custer, Sherman, Grant, and a host of officers, soldiers, and Indian agents, as well as great native leaders such as Crazy Horse, Sitting Bull, Geronimo, and Red Cloud and the warriors they led.
The Comeback: Greg LeMond, the True King of American Cycling, and a Legendary Tour de France (Atlantic Monthly Press, 2018) by Daniel de Visé is the story of Greg LeMond, the first American winner of the Tour de France. Months after his victory, LeMond had a serious accident, made a remarkable recovery, and won twice more. He later spoke up about doping, taking on Armstrong, and was ostracized from his sport. Daniel de Visé, a former Washington Post and Miami Herald reporter, shared a 2001 Pulitzer Prize.
Valley Forge (Simon & Schuster, 2018) by Bob Drury and Tom Clavin, turns the tale of what has long been considered a "disaster" on its head, reframing a key chapter in U.S. military and political history to show how the events at Valley Forge shaped Washington as a leader and set the stage for the strength and resiliency of the nation. Drury and Clavin wrote Lucky 666 and The Heart of Everything That Is, among others. Drury serves as editor and foreign correspondent for Men's Health. He is being interviewed by Peter Cozzens.
Dinner in Camelot: The Night America's Greatest Scientists, Writers, and Scholars Partied at the Kennedy White House (ForeEdge, 2018) by Joseph A. Esposito details the era's most important dinner. Beyond being a single spectacular event, the evening had historical repercussions and has implications in light of today's polarized political climate. Esposito is a writer, historian, and educator who served in three presidential administrations. Meeting JFK when he was ten years old sparked a lifetime interest in politics and history.
Tinderbox: The Untold Story of the Up Stairs Lounge Fire and the Rise of Gay Liberation (Liveright, 2018) by Robert W. Fieseler, an essential work of American civil rights history, reconstructs the 1973 arsonist's fire that was the largest mass murder of gays until 2016. It devastated New Orleans' subterranean, blue collar gay community and revealed the toxic prejudice of that time and place. Fieseler is a recipient of the Pulitzer Traveling Fellowship and the Lynton Fellowship in Book Writing.
The Royal Art of Poison: Filthy Palaces, Fatal Cosmetic, Deadly Medicine, and Murder Most Foul (St. Martin's Press, 2018) by Eleanor Herman is an entertaining account of poison as a powerful political tool in the royal courts of Western Europe from the Middle Ages to the Kremlin today. Herman, author of Sex with Kings and other works of pop history, has hosted National Geographic Channel and History Channel programs.
The Lost Locket of Lewes (Ingram, 2018 – children's historical fiction) by Ilona E. Holland, Ed.D., uses fact and fiction to explore a discovery that spans two centuries. Employing time travel, two children unravel a mystery presented in a long lost locket they find on the beach. Includes a walking tour of historical sites in Lewes. Before moving to Delaware, Holland taught for many years at the Harvard Graduate School of Education.
Damnation Island: Poor, Sick, Mad, and Criminal in 19th-Century New York (Algonquin Books, 2018) by Stacy Horn, is the first contemporary investigative account of the 19th-century lunatic asylum, prisons, almshouse, and hospitals on what was called Blackwell's Island (Roosevelt Island today). A bright light in the misery was the Rev. William Glenney French, who ministered to residents and battled bureaucracy on their behalf. Horn is the author of five nonfiction books and a contributor to NPR's All Things Considered. She is being interviewed by Jeffrey Fried.
Kosher USA: How Coke Became Kosher and Other Tales of Modern Food (Columbia University Press, 2016) by Roger Horowitz, which received the National Jewish Book Award for the best book in American Jewish Studies from the Jewish Book Council, is the fascinating and fun story of Kosher-meets-the modern industrial food system. Horowitz, a professor at the University of Delaware, is an historian of American business, technology, and labor and an expert on the nation's food.
The Hunger (G.P. Putnam's Sons, 2018 – historical fiction), by Alma Katsu, gives history a supernatural twist on one of the deadliest and most disastrous Western adventures in America: the Donner Party wagon train. Her second novel, it studies the volatility of human nature pushed to its breaking point by depleted rations, ill-advised choice of route, and the mysterious death of a little boy. Katsu, a signature reviewer for Publishers Weekly and a contributor to The Huffington Post, also works as a senior analyst.
The Kennedy Debutante (Berkley Hardcover, 2018 – historical fiction) by Kerri Maher shines a light on the life of Kathleen "Kick" Kennedy, the independent, rebellious member of one of America's greatest political dynasties. The novel provides a thrilling look inside pre-war London high society through the experiences of this particular debutante whose father was serving as U.S. Ambassador to the United Kingdom. Maher holds an MFA from Columbia University and founded YARN, an award-winning literary journal of short-form YA writing. She is being interviewed by Maribeth Fischer.
The Widows of Malabar Hill
The Widows of Malabar Hill, (Soho Press, 2018 – historical fiction) by Sujata Massey, takes readers to India in the 1920s when Bombay's first female lawyer is investigating a suspicious will on behalf of three Muslim widows. Before long, the case takes a turn toward the murderous. This critically acclaimed historical mystery novel has a captivating heroine, as do many of Massey's 14 books of mystery and historical fiction, featuring strong women in late British colonial India.
Five for Freedom: The African American Soldiers in John Brown's Army (Chicago Review Press, 2018) by Eugene L. Meyer, is the true story of the five black men who stood with John Brown, willing to die for the cause, on October 16, 1859. This is the first book about their collective story. Meyer, a former longtime Washington Post reporter and editor, is a contributing editor to Bethesda Magazine and edits B'nai B'rith Magazine.
The Rise of Yeast: How the Sugar Fungus Shaped Civilization (Oxford University Press, 2018) by Nicholas P. Money is a celebration of yeast, a key component in brewing, winemaking, and baking as well as biofuels, insulin, and other pharmaceuticals. This is the story of 10,000 years of yeast, leading to agricultural settlement and the development of civilization. Money is a biologist, author, and professor of botany and Western Program Director at Miami University, Oxford, Ohio.
Inspector Oldfield and the Black Hand Society
William Oldfield and Victoria Bruce
Inspector Oldfield and the Black Hand Society: America's Original Gangsters and the U.S. Postal Detective Service who Brought Them to Justice by William Oldfield and Victoria Bruce (Touchstone, 2018) is the true story of Americ's 156th Post Office Inspector and his quest to bring to justice a Sicilian-American organized crime ring who preyed on Italian immigrant families. Despite death threats and obstacles, using unconventional and unsanctioned methods, Oldfield's efforts led to the first national organized crime convictions in the U.S. Co-author Oldfield is an archivist and historical lecturer; Bruce is the author of multiple books and awards for excellence in broadcast journalism.
Delaware's John Dickinson
Delaware's John Dickinson: The Constant Watchman of Liberty (jointly published by the Friends of the John Dickinson Mansion, Delaware Department of State, and the Delaware Heritage Commission, 2018) edited by John Sweeney, is a new anthology of essays and lectures on the life and career of John Dickinson. Largely acknowledged in his day yet less known in ours, Dickinson's influential role as a colonial patriot and statesman earned him the nickname "Penman of the Revolution." He fought slavery, promoted religious freedom, and included individual rights in the U.S. Constitution. Sweeney spent more than thirty years as editor of Delaware's News Journal.
Chesapeake Requiem: A Year with the Watermen of Vanishing Tangier Island (Dey Street Books; 2018) by Earl Swift is the story of the past, present, and future of the island mapped by John Smith in 1608. It takes a deep dive into this community of less than 500 residents and its ecosystem, addressing the challenges that will test the fate of this and other coastal communities. A residential fellow of the Virginia Foundation for the Humanities at UVA, Swift has written about the Chesapeake region for thirty years.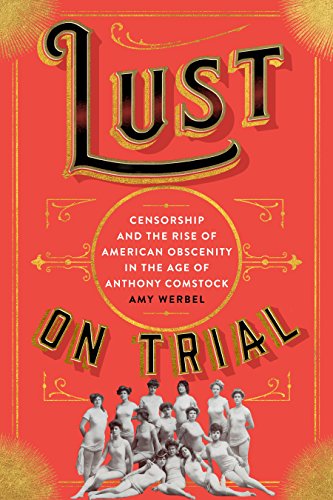 Lust on Trial: Censorship and the Rise of American Obscenity in the Age of Anthony Comstock (Columbia University Press, 2018) by Amy Werbel is a colorful cultural and social history framed by the story of America's first professional censor, whose campaign to rid America of lasciviousness and obscenity led to greater acceptance of materials he deemed objectionable. Werbel is an associate professor at the Fashion Institute of Technology and the recipient of fellowships from the Smithsonian and the Metropolitan.
Not Our Kind (HarperCollins, 2018 – historical fiction) by Kitty Zeldis focuses on two women, a Park Avenue WASP and the young, Jewish Vassar grad she hires to tutor her teenager. Their lives intersect in post-WWII New York City, with society on the cusp of significant changes. A line is crossed that has consequences for both families, raising compelling questions about how our lives are shaped by our circumstances and by chance. Zeldis is the pen name of an author of seven novels and twenty-eight children's books. She is being interviewed by Maribeth Fischer.